4 channel video installation with HELLO LOVERS ORCHESTRA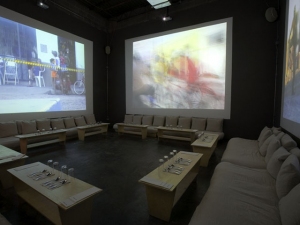 AT MONKEYTOWN, BROOKLYN, NY
Friday, Saturday and Sunday, October 23, 24, and 25
Admission: $40 6-course Prix Fixe Dinner (Friday & Saturday); $10 + $10 minimum (Sunday)
Doortime: 7:30pm (Friday & Saturday); 8pm Sunday
reservations are recommended

Hello Lovers is a strange fruit; comprised of musicians from different backgrounds and lineages. From prestigious conservatories to ad hoc improvisation pot lucks, avant garde and experimental studies to negro spiritual workshops, thru noise abandons and punk ethics.

Hannah Liddell- piano; Masha Poloskova - violin; Mollie Fischer - cello;
Leah Celest - viola; Corey Walker - brass; Caitlin Macklin - trombone;
multi instrumentalist Andy Hadaway and many wonderful guests, fill the dress of this fancy musical thing.

With composer/singer J.C. King's unique songs, using improvisation, with consistently romantic themes. Hello Lovers are cultivating a zealous and ritualistic method of torch song. musics of broad, rich harmonies, mystery, stillness and kinetic movement.

Performing new work as well as music from 2008's LP Gone with the Wind (sixgunlover) and 2006's acclaimed Vanity Fair EP (inchworm records). Available on itunes and most mom and pops. These performances are in colaboration with images by Lydia Greer.

---
NEWS! World Premiere: GHOSTS OF THE RIVER-SHADOW THEATRE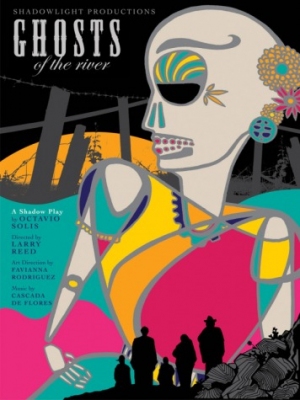 Ghosts of the River is a Shadow Play collaboration between Larry Reed (Shadowlight Productions) and playwrite Octavio Solis premiering this fall!
I am a proud ensemble member.
Artists
Octavio Solís, Playwright
Larry Reed, Director/Shadow Master
Favianna Rodriguez, Art Director
Cascada de Flores, Music
I Made Moja, Shadow Design
Gregory T. Kuhn, Sound Design

Cast
Leonidas Kassapides
Caryl Kientz
Marc Pinate
Lydia K. Greer
Sarita Ocón
Fred Riley
Marilet Martinez
Gerardo P. Mendez
Hugo Carbajal

PERFORMANCE SCHEDULE

Oct 1-11, 2009
Teatro Vision
San José, CA

Oct 28 - Nov 8, 2009
BRAVA Theater Center
San Francisco, CA

Ghosts of the River incorporates actors, shadow puppets and music along with Octavio Solís' epic writing into a unique collection of vignettes of those who have encountered the Rio Grande throughout time: Mexican Revolution refugees fleeing from violence; families abandoned by coyotes; narcotic rivalries that strew the river with the dead; and Border Patrol agents who toil against the tide of immigration and personal conscience. Produced by San Francisco's ShadowLight Productions, Ghosts of the River shares the untold stories of both sides of the divide. This will be a bilingual play with Spanish/English translation provided through subtitles.

Fantamas Del Río incorpora actores en escena, marionetas de sombras y música en una obra bilingüe que relata cuentos de las personas que han encontrado el Río Grande. Los de los refugiados de la revolución mexicana, las familias abandonadas por los coyotes, las rivalidades de los narcotraficantes y los agentes de la patrulla fronteriza que trabajan duramente contra la marea de inmigración y la conciencia personal. Una producción de ShadowLight Productions, Fantasmas Del Río comparte los relatos por contar de ambos lados de la frontera. Está obra se presentará en forma bilingüe con traducción por medio de subtítulos.
---
UC Berkeley Master of Fine Arts Exhibit 2009!!!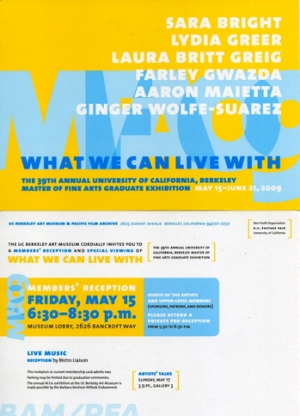 The M.F.A. program in art practice at UC Berkeley provides a unique context for students to employ unconventional yet rigorous research methods. Drawing on their studies in diverse fields—literature, folk culture, engineering, history, web design—the six artists graduating in 2009 have created works that challenge our desire to identify with predetermined visual models and redefine the Bay Area legacies of Abstract Expressionism, conceptual art, and social practice.
-Dena Beard, assistant curator, Berkeley Art Museum