FACING WEST: A Shadow Theatre Opera in development!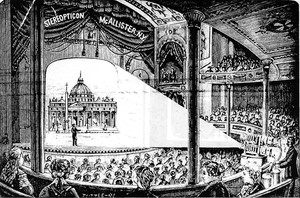 http://facingwestshadowtheatre.wordpress.com

FACING WEST: A SHADOW THEATER OPERA will come alive in SUMMER 2014 as a collaboration between opera singer William Sauerland and Artists Lydia Greer www.lydiagreer.com & Jessica Eastburn www.jessicaeastburn.com in the San Francisco Bay Area. Operating on an intimate scale with live chamber music, a small shadow puppet theatre will be lit up with layered and fantastical art work depicting scenes from California history, ecology and western expansion. Look for Walt Whitman flying euphorically above the old west! These performances will be absolutely unique and akin to a live graphic novel synchronized with live musical arrangements. We hope to create an intimate atmosphere with a small screen, live opera/chamber music/sound and a salon style audience. Stay tuned!
---
Shades of Impact at Worth Ryder Gallery, UC BERKELEY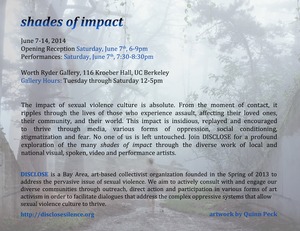 join us for the opening reception of "shades of impact", an exhibition curated by DISCLOSE http://www.disclosesilence.org/ at Worth Ryder Gallery, UC Berkeley.The exhibition runs from June 7-14, 2014Opening Reception Saturday, June 7th, 6-9pm Worth Ryder Gallery, 116 Kroeber Hall, UC Berkeley Gallery Hours: Tuesday through Saturday 12-5pm The impact of sexual violence culture is absolute. From the moment of contact, it ripples through the lives of those who experience assault, affecting their loved ones, their community, and their world. This impact is insidious, replayed and encouraged to thrive through media, various forms of oppression, social conditioning, stigmatization and fear. No one of us is left untouched. Join DISCLOSE for a profound exploration of the many shades of impact through the diverse work of local and national visual, spoken, video and performance artists. photo: Quinn Peck. This event is wheelchair accessible. ------------------------------------------------------------------------------------ DISCLOSE is a Bay Area, art-based collectivist organization founded in the Spring of 2013 to address the pervasive issue of sexual violence. We aim to actively consult with and engage our diverse communities through outreach, direct action and participation in various forms of art activism in order to facilitate dialogues that address the complex oppressive systems that allow sexual violence culture to thrive. http://disclosesilence.org/