Facing West Shadows at The ICA SJ-Institute of Contemporary Art, San José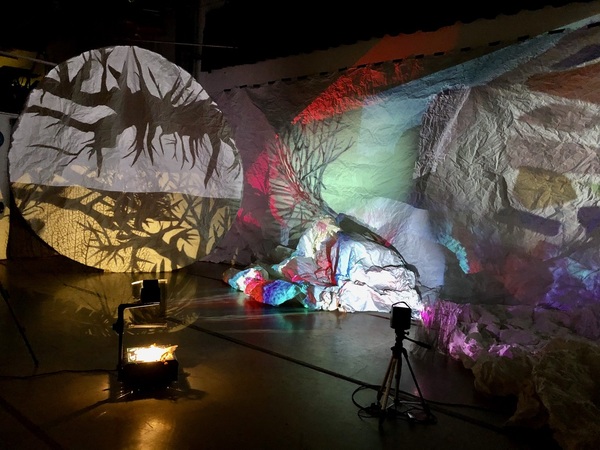 Facing West Shadows: The Endless End (April 2022-Aug 2022)
Facing West Shadows: The Endless End is a cinematic, sculptural installation created by Facing West Shadows at the Institute of Contemporary Art San José. Facing West Shadows: The Endless End illuminates the perpetuation of extinction and survival; the disrupted life cycles of native plants and animals, aquatic systems, and fire ecologies as affected by anthropogenic climate change. The viewer's attention is guided through projected moving images, hand-made animation, and cast shadows with a multi-dimensional soundscape. Collapsing and expanding time, species will live and die over the span of an hour of looping, overlapping, multichannel and multidirectional projection. In a sculptural environment, our role as animals within a system and as the planet's apex predator is illuminated.
As in proto-cinematic cave paintings and ancient shadow theatre storytelling traditions, Facing West Shadows seeks to understand non-human species and our relationships with them. Among their inspirations are the Bay Area's own precarious and diverse ecologies and Eadweard Muybridge's electro-photographic investigation of consecutive phases of animal movements. By weaving multiple moving images of Bay Area ecologies, mycorrhizal networks, fire, and water, Facing West Shadows: The Endless End takes the viewer on a time-based and immersive journey through cycles of ecological and species extinction and sometimes, survival.
About Facing West Shadows
Facing West Shadows (principal members: Lydia Greer (artistic director) and Caryl Kientz (theatrical director) in collaboration with artist Ya Wen Chien is a collective of artists, puppeteers, filmmakers, and musicians hybridizing art forms to create magical acts of rebellion as experimental art that is sustainable in the current gold rush climate of the Bay Area. Facing West Shadows combines analog shadow theatre with original animation, video projection of found footage, and sometimes Opera performed live. Expanding into film, theatre, and installation, Facing West Shadows depicts stories re-imagined with unique visual storytelling to create surprising experiences for the audience by seamlessly combining old and new technologies and art forms.
---
JUNE 9th @ KALA-Experimental Shadow Animation with Live Opera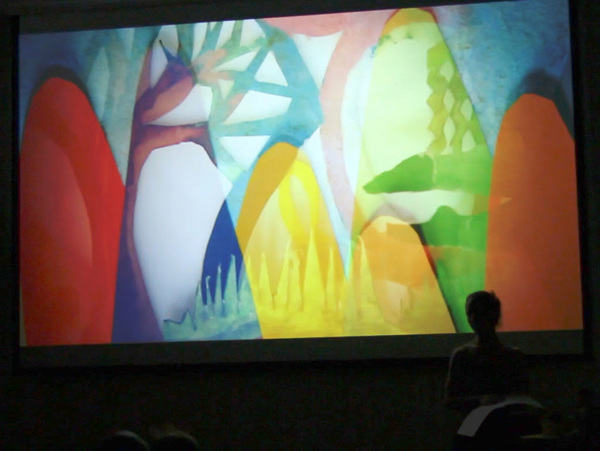 Experimental Shadow Animation with live shadow puppet performance and opera!
June 9 at 8:30 pm (Doors at 8 pm).
Link to: EventbriteTickets
(may also be purchased at the door)
As a part of current exhibition Skinnable Shadows, Kala Gallery is proud to present Lydia Greer & Caryl Kientz's Experimental Shadow Animation with live shadow puppet performance and opera featuring vocalists Shauna Fallihee, William Sauerland and cellist Adam Young on Saturday, June 9 at 8:30 pm (Doors at 8 pm). Tickets are $10-25 sliding scale, available on Eventbrite
The program includes selections from:
The Euphoria of Walt Whitman
Hysteria
Hallucinations

---
Media Arts Exhibit at Kala Art Institute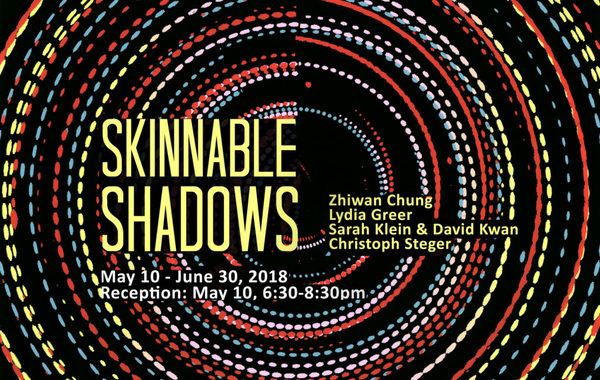 The opening reception for the Media Arts Exhibition at Kala Art Institute is May 10, 2018 from 6:30 to 8:30pm. I am showing new sculpture and animation.
2017-2018 Media Arts Residency Awardees:
Zhiwan Cheung

(Pittsburgh, PA)
Lydia Greer

(Alameda, CA)
Sarah Klein

and David Kwan (San Francisco, CA)
Christoph Steger (Oakland, CA)
The show will run from May 10 to June 30 with a screening on June 15th and on the evening of June 9th, a performance by Facing West Shadow Opera, my collaboration with opera singers William Sauerland (countertenor)and Shauna Fallihee (soprano) and theatre artist and shadow puppeteer Caryl Kientz.
---
PHOTOFAIRS San Francisco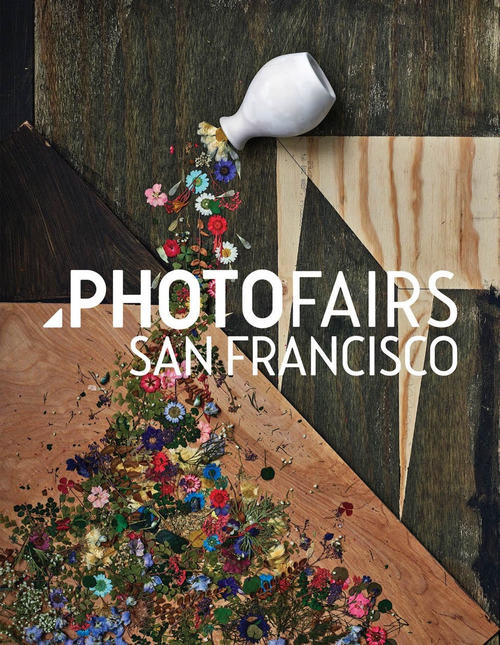 My video Hallucinations (2017) is included in the video art program for
PHOTOFAIRS -San Francisco.
February 23 - 25, 2018, Fort Mason Festival Pavilion
Titled
The Channel of Democracy: Womanhood, Power & Freedom in Video Art
and is curated by Justin Hoover/Collective Action Studio. My work will be featured along with some of the best talent making video art today. It is part of a 90-100 minute video program that will play during the fair.
Connected @ PHOTOFAIRS SF
We are proud to present the first edition of Connected, The Channel of Democracy: Womanhood, Power & Freedom in Video Art, curated by Justin Hoover, to showcase the breadth of visionary talent currently at the helm of contemporary video and new media art. A curated group of strong, San Francisco-based and internationally-based female and queer artists exploring issues of power, equality and representation will present an approximately one-and-a-half-hour loop of video artworks in a black box screening room that will play continuously throughout the fair. Fifteen artists take on challenging social and representational issues in ways that not only are aesthetically powerful but politically meaningful.
Featured artists include Shiva Ahmadi, Zeina Barakeh, Mona Clark, Sophie Clements, Zen Cohen, Nanda D'Agostino, Kate Gilmore, Lydia Greer, Allison Leigh Holt, Kadet Kuhne, Pixie Liao, Klea McKenna, Liz Miller, Tiffany Trenda, Merav Tzur.