VERMONT STUDIO CENTER/April 2016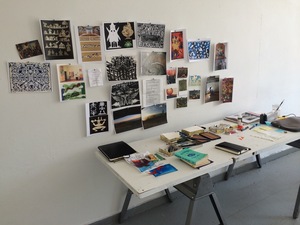 Excited to be working at Vermont Studio Center this April on protoypes for a new body of work with paper, an experimental illustrated novel, animation experiments and more! My studio is huge and gives me a wonderful sense of possibility. Click to check out my instagram feed if you dare.
---
FORT NIGHTS at FORT MASON CENTER for ART & CULTURE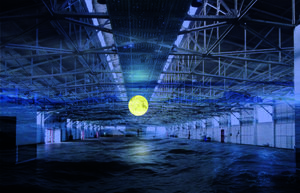 I am excited to have been included in FORT NIGHTS: Neon Robot Iceberg on March 26th, 2016. I exhibited a large scale looping video installation of an accumulation of my animation/material studies as a new peice in the beautiful and gigantic 55,000-square-foot Festival Pavilion at Fort Mason. This event, which is the first in the Fort Nights series, features more than 22 artists and musicians exploring site-specific multi-media art across the 55,000-square-foot Festival Pavilion and Firehouse in a one-night-only spectacle of light and video art installations on March 26 2016.
---
MARCH 19th FACING WEST SHADOW OPERA at OTHER CINEMA at Artists Television Access
FACING WEST SHADOW OPERA
STRIKES AGAIN!
on MARCH 19th 2016 at
ARTIST'S TELEVISION ACCESS
in San Francisco, CA!
We are proud to be performing our unique
LIVE Opera/Shadow Puppet/Found Film/Animation OPERA about
WALT WHITMAN & THE WILD WEST
at
PIXILATION PRODIGIES
at Craig Baldwin's
OTHER CINEMA
MARCH 19th at
ARTIST'S TELEVISION ACCESS
SAN FRANCISCO, CA
Showtime 8:30pm, admission* $7.
http://www.othercinema.com/calendar/index.html​
OTHER CINEMA is an ongoing series of experimental cinema in San Francisco showing films every Saturday at ATA Gallery, 992 Valencia (@ 21st). Showtime 8:30pm, admission* $7.
MAR. 19: ROURKE + GALLAGHER + PUPPETS: FACING WEST
+
A star-studded lineup is showcased for this latest in our series of engagé experimental animation! In person is Dee Hibbert-Joneswith her (and Nomi Talisman's) rotoscopedtour de force Last Day of Freedom, following films from Jodi Mack, Nancy Jean Tucker, and the Quay Brothers. Martha Colburn affords us the world premiere of her Drumpf and Booo, a cut-out cut-up of Donald Trump! Kelly Gallagher is represented with a few of her feministflame-throwers, while regional geniusJeremy Rourke embodies and embellishes his two new pieces with glockenspiel andharp, and maybe a trapeze, and surely a trampoline. PLUS Facing West, Lydia Greer's plucky puppet troupe, performing their live-musical shadow-show. AND Gerry Anderson, talking ostriches, and Brother Gilbert's Temescal home-brew!
https://facingwestshadowtheatre.wordpress.com/